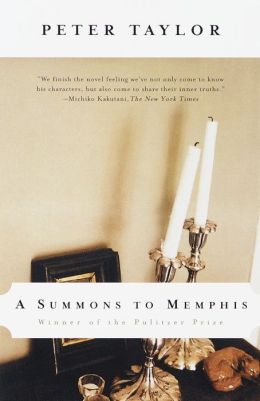 Written by Peter Taylor in 1986, and awarded the Pulitzer Prize for fiction in 1987, this is, according to the critics, a quintessentially Southern novel. Like his main character, Phillip Carver,
Taylor was born in Nashville
, and later lived in Memphis, where his father practiced law; and, like Carver, Taylor attended Vanderbilt, at least for a time. In the novel, Philip is "summoned" home to Memphis by his domineering older sisters to help prevent the marriage of their octogenarian father after the death of their mother. Phillip lives with a younger woman in Manhattan, working as a book editor and rare book dealer-- having escaped the cloistered environment of Memphis with financial help from these same sisters after the second World War. His older brother had been killed in the war. The senior Carver had moved the family from Nashville to Memphis following the financial scandals surrounding a large insurance and finance conglomerate owned by his then best friend and boss, Lewis Shackleford. Phillip was then just a teenager, and his older sisters were in their late teens, with their brother in between. The entire family felt betrayed by their father's decision to move, with Mrs.Carver comparing it to the Cherokee "Trail of Tears." She had come from a moneyed family in Nashville and "married down" somewhat to George Carver, although he came from a family with land and was an aspiring lawyer. Mrs. Carver at first engaged with abandon in the new social scene of Memphis but then retreated into pseudo-invalidism for the rest of her life. Mr. George Carver,however, wasn't through messing up their lives. First he managed to put a stop to Betsy's engagement to a promising young Nashville suitor. Then during WWII, he also bought off the woman that Phillip loved. Neither of the older sisters ever married and Phillip's older brother was killed in the war. In this book, what becomes increasingly clear to Phillip during the course of the novel is just how manipulative his entire family has become, with revenge apparently the end goal of both the sisters if not also the father. What he does not seem to openly acknowledge is his retreat, not so much geographically, but emotionally from these large dramatic characters of his family into a small and monochromatic life. He calls it serenity. Perhaps. A much more scholarly review of the book is available from the
NYTimes
.